Harrow School Golf Club
Harrow School
5 High Street
Harrow-on-the-Hill
Middlesex
HA1 3HP
switchboard: (020) 8872 8000

Warden's Office
Access: Garlands Lane [map]
Harrow-on-the-Hill
Middlesex
HA1 3EA
mobile: 07521 435297

Grounds Manager
mobile: 07917 635159
Harrow School Security
mobile: 07766688597
Navigation
Local Clubs/Courses: [m]ap
Other Links
Site by Michael Hammond
Harrow School Golf Club
Harrow School Golf Club (HSGC) is a members' club that has unique access to Harrow School's beautiful nine-hole course. Created by Donald Steel in 1978, the carefully nurtured course presents exciting challenges to golfers and benefits from being located on a high point; many of the holes offer stunning views of the Capital. The yardage is 3,690 and the standard scratch score is 57.
Members play in the mornings and evenings during School term time. Access, however, is unrestricted on Sundays and School holidays. The Club's membership is an active one. There are many competitions and well-attended social events throughout the year.
Ladies' Section
Thursday Gents
Thirty or so players gather every Thursday for some robust golf and a beer afterwards, and every Thursday the winner receives a logoed golf ball that reads "The Thursday Gentlemen." Read more.
Master Scoreboard Information Future Competitions, Mens, Ladies and Mixed
Click to go to Master Scoreboard Future Competitions
Logout
You are now logged out from MasterScoreboard.co.uk
Course Update.
This area of website under construction.
A Magical Rainbow Golfing Experience.
On the first Saturday in October we had a new club event entitled 9 and Dine. The weather forecast leading up to the event was dire. However the rain cleared up and 18 intrepid golfers set out to play a Texas scramble over nine holes in teams of three.The sun was shining, though we did have one short heavy rain shower. This led to the most superb double rainbow. Coupled with this some of the golfers saw flocks of swifts circling over the hill. After the golf we were joined by the non-golfers and twenty four of us enjoyed pre dinner drinks followed by an excellent meal provided by Lorraine and her helper. Everyone who attended agreed that this is an event which we should certainly keep in the calendar. Our thanks are due to John and Sara Robinson for organising this successful new addition to our calendar.
Rainbow 9 and Dine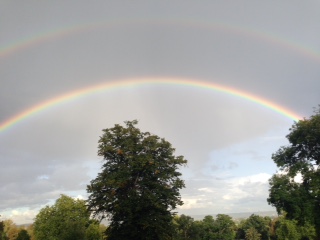 Sue Price Memorial Stableford April 6th 2016
Following a delayed and very wet start to the Sue Pryce Stableford, held on Wednesday 8 April, the sun came out. Unfortunately this was followed by more rain and high winds, making the conditions for golf very challenging. Coffee and home made cake was enjoyed by the field of 12 intrepid ladies and Gareth Pryce who very kindly came along to do the presentation. The very worthy winner, Yvonne Lembke, was presented with the Sue Pryce Stableford Salva together with flowers by Gareth. Parvaneh Weston, was runner up, who was also presented with flowers by Gareth.
Sarah Porter presenting the Stuart Porter Memorial Cup to 2016 winners John Porter, Doreen Emery, Ruth Smith, and John Robinson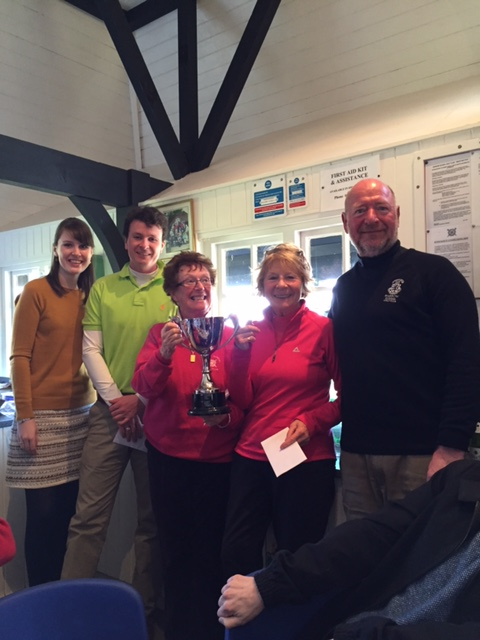 Yvonne Lembke, winner of the Sue Pryce Stableford 2016, receiving the cup from Gareth Pryce
Jackie Porter presenting the Stuart Porter Memorial Cup to 2015 winners Doreen Emery, Ruth Smith, Tony McCann and John Robinson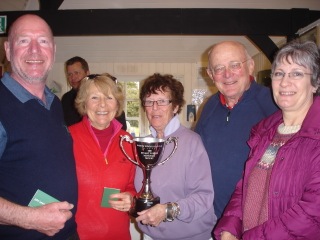 Winners of the 2015 Jubilee Cup: John and Sarah Robinson, and Nicky Shaw and Alton Morgans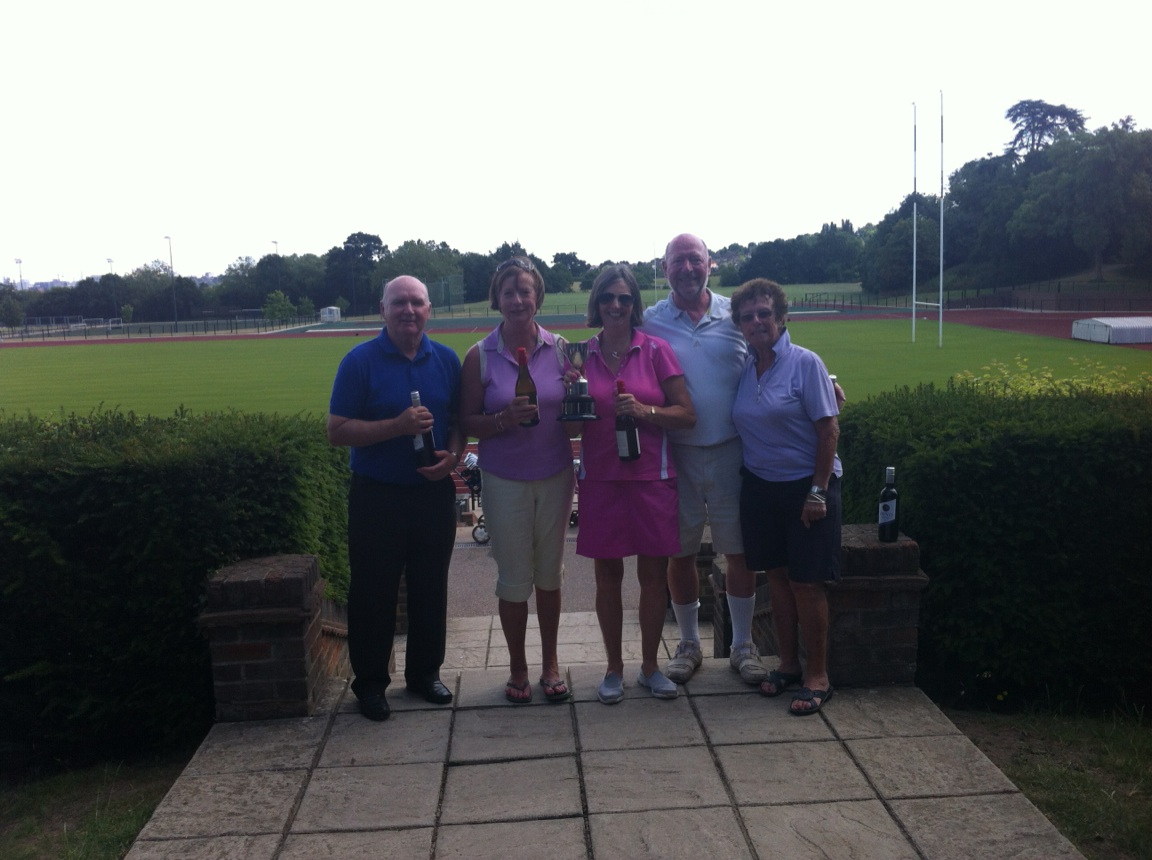 Tee Times
Members play in the mornings and evenings during School term time. Access, however, is unrestricted on Sundays, School holidays (eighteen weeks of the year) and Fridays, Saturdays and Sundays of exeat weekends. The exeats in 2017 are January 27 to 29 and March 10 to 12 (spring), May 5 to 7 (summer), and September 29 to October 1 and November 17 to 19 (autumn). You may check Harrow School term dates for half terms and exeats.
Download HSGC's playing times (.doc):
Calendar
Our committee organises many tournaments and social events. Here are ammendments to December's hard copy:
Wednesday 9 November New Members Drinks Reception has been cancelled
Download HSGC's events calendar for a comprehensive listing, and note that no fourball golf may be played before noon on medal weekends:
Committee and Key People
School appointees and elected representatives of the membership meet three times a year.
*clicking on these links may work for emailing Chairman, Hon Secretary or Golf Warden. The Honorary Secretary's e mail address is: hsgcsecretary@harrowschool.org.uk
The secretary and the warden are also members of the Greens' Committee, as are Kay Nicol, John Slade and the Harrow School Grounds' Manager. The Greens' Committee meet two or three times a year to agree course maintenance and improvements.
Membership
To apply to become a member, please e-mail Honorary Secretary Wendy Driver, who will invite you to play a few holes with our warden. There is no joining fee, nor is an official handicap required.
Download an application form (.doc). See also the subscriptions form, for it includes a breakdown of Club fees:
Be assured that applicants are no longer summoned in near Masonic induction ceremonies to the Old Harrovian Room to undergo searching character examinations. Nowadays, the etiquette of fairway and green is what matters, not that of knife and fork, and the Club's warden conducts the only test that applicants must pass.
Green Fees
Members may introduce up to three guests, on payment of a green fee of £10 per guest. Guests must be logged in the visitors' book. Cash or cheques made payable to "Harrow School Golf Club" should be posted through the letterbox in the warden's hut. The card box contains envelopes.
Members' Login
Members will require a username ("hsgc") and password (see a committee member) to access the Members' Login. Hard copies of many of the documents contained within can be found in the Boyer Web Pavilion.
See the Members' Login for newletters and handicapping.
Clothing
HSGC-branded clothing is ordered twice a year and is in stock. The Club logo is in emerald green. See Wendy Driver for polo shirts and men's Glenmuir lambswool sweaters.
Harrow School golf umbrellas are available for £10.75 in the Hill Shop, West Street.
Parking
Please use the car park at the foot of Garlands Lane or park by the tennis courts. The parking area by the first tee is for the exclusive use the Grounds staff.